Yesterday, the Connecticut Green Building Council (CGBC) awarded Melissa Kops with their most prestigious distinction, the Judy Swann Green Advocate award. This award honors leaders who have made significant contributions to the understanding of sustainable design in Connecticut through education, advocacy, and civic engagement.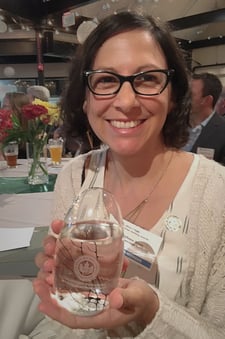 Melissa has made it her mission to contribute to our community and raise awareness of sustainable design. She is on the board of the CGBC, advises the City of New Haven on sustainability measures, and has been involved with the Open Architecture Collaborative. As an ambassador for the International Living Future Institute and co-facilitator of the Connecticut Living Building Challenge Collaborative, she gives presentations about all aspects of the Living Building Challenge, a green building certification system that defines the most advanced level of sustainability. Melissa also organized and moderated the2017 Northeast Summit for a Sustainable Built Environment conference at Yale University, and will do it again in 2019.
We are grateful for all of Melissa's contributions to our team and to our community. She demonstrates her expertise in design that supports health and well being every day in our office, helping our work foster deep connections to place, community, and ecology. Congratulations, Melissa!
Interested in having Melissa give a talk about the Living Building Challenge to your organization? Email Becky Nichols