With the change in season my attention has shifted to connections - connections between people and communities in particular.

Perhaps it's conferences coming back to in-person after two plus years of COVID remote formats, or increased community engagement work our office is facilitating, or maybe a response to strained connections driven by current political discourse. Whatever the reason, the delightful but not surprising result of my attention and action focusing on connections has been deeply uplifting. I say "not surprising" because I know it's human nature to thrive when connecting with others and to know ourselves are a part of a larger living network.
In making invitations to connect, I can see that my level of delight depends largely on the quality of the interaction. Some interactions are cursory, played-out as if on "automatic", and some unfold in what can feel like magic. Both are okay, but I realize how I show up to each interaction matters. If I show up ready to listen and learn and share, then magic happens.
With this awareness, just over a week ago I jumped full-in to the NOMA national conference in Nashville, TN. NOMA is the National Organization of Minority Architects. Ahead of the conference I was in touch with Andrew Chin, a University of Florida undergrad classmate of mine who is the interim Dean at Florida A&M University's School of Architecture & Engineering Technology. I offered to host a lunch at the conference for UF and FAMU students, and Andrew quickly sent out the word through his networks.
On the first day of the conference, I reached out digitally via the attendee list to students attending from UF and FAMU, as well as to colleagues who I wanted to meet. I also spent the moments between conference sessions meeting new people in person. I had brief chats where niceties and business cards were exchanged. I also had invigorating, imagination-filling conversations because the interest, attention, listening, and sharing extended both ways. I invited these folks to join the lunch table. To my delight, the lunch table began to grow.
As the gathering approached, I wondered how to greet the lunch table guests and introduce the event's inspiration. Up to this point the whole thing had been rather intuitive - I had an idea and I acted. While sitting on the bench across from the Halloween-carved pumpkins in the conference hotel lobby, an undergrad professor and mentor of mine popped to mind. Then, as if a dam had burst, I was flooded with memories of those who helped me along my path. From little assists I barely remembered to huge gambles that changed the course of my life, I could see how each person helped me along with their gift of attention and action. As this parade of figures passed though my mind I realized a full-circle moment of magic: in hosting this lunch, I was honoring them and their contribution to my journey, and my thanks was to pass it forward to the next generation.
As conversations unfolded, the second bit of magic appeared. For those who said "yes" to the lunch table, synergies of opportunity, related interests, and histories emerged: a young professional and a firm owner, both from Virginia, but as of yet unknown to each other; a young professional and a firm owner working in different states, both from the British Virgin Islands; students not sure about the next steps of their career engaging with professionals who teach, who own both large and small practices, and who work on the owner's side of projects and for construction managers. The image below captures those who connected and built new relationships at the lunch table that day.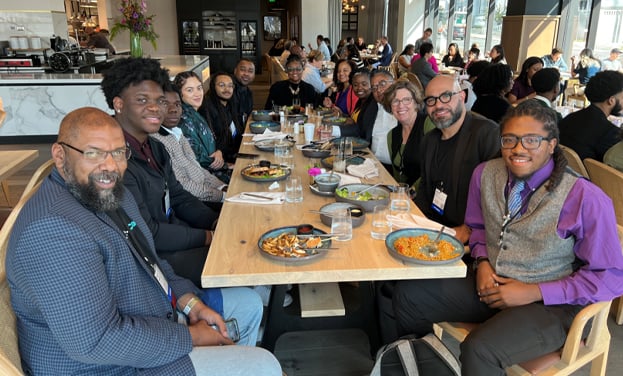 (Photo credit – "Lunch Table" NOMA 2022 Conference Nashville TN)
Now, there is yet a third delightful bit of magic that unfolded at this event that still makes me smile… The conference date coincided with the days leading up to Dia de Muertos – a Mexican holiday that honors deceased ancestors and dear ones. In my time studying the ancient cultures of Mexico, I came to love this holiday and appreciate the power of drawing energy and wisdom from our lineage and engaging it to move forward across generations, and for me, within my own lifetime. My favorite action of the Dia de Muertos is to create an ofrenda, a type of altar, to celebrate the ancestors. The photo of the lunch table attendees reminds me of a new kind of ofrenda – everyone having said yes, open to listen, learn, and share, and in doing so, honoring those who came before and those who will follow. The connections of past, present, and future melted into one moment.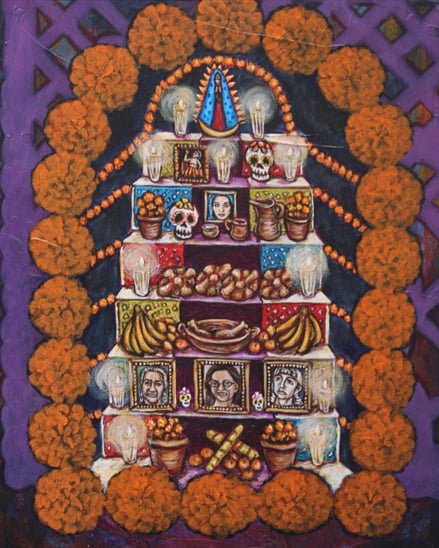 (Image Credit © Emily Grieves – Ofrenda, 2022)
After the lunch, one student wrote to me to say his "eyes were opened" at the lunch table to the importance of two things: clearly stating what he wants for his life (and taking this into the world) and making connections. As well, one of the firm owners said he was so moved by the gathering that he was going to steal the idea and host his own lunch tables. And so it is, out into the world.
In closing, an invitation for you who are reading this: please share any delightful (and perhaps surprising) connections you have discovered in your world this season by replying to this email. We will collect your stories and share them in a version of this blog before the end of the year…
Onward to create magic!