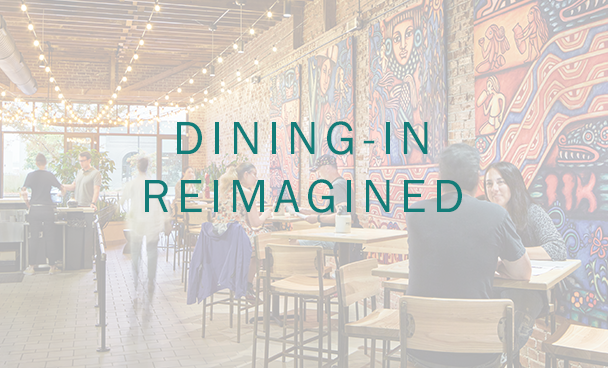 DINING-IN REIMAGINED
Focusing on hospitality and experience while safely adapting restaurants
As we begin to welcome people back to dining-in at restaurants, how do we need to adjust capacity, flow, and operations for the safety of guests and staff? And how do we do this without losing the experience and hospitality that everyone has been craving during this time?? Restaurant owners want guests and staff to be safe AND feel comfortable.
Here are some ways we may be able to help:
Determine the safe capacity of your restaurant in its existing configuration
Study options for modifying layouts and/or adding social distancing elements to increase safety/capacity
Design new outdoor dining space
Develop flow plans
Strategize ways to modify operations
Prepare diagrammatic drawings that are easy to understand
Identify modifications that can be made internally
Design or specify social distancing elements and/or furniture
Review code implications that may occur because of new layouts
Design signage that guides users
Coordinate installation of social distancing elements, furniture, and/or signage
Work with our engineering partners to assess your air quality and HVAC Systems
We're happy to jump in at any scale. Our goal is to use our expertise to help you step forward, and we can do so in a light-touch way, being only involved in the capacity you would find truly helpful.