On Wednesday May 23, three members of our team visited the Sustainability Expo at Cold Spring School – a wonderful exhibition of the sixth grade class's year-long projects studying many facets of sustainability. We are working on a renovation of Cold Spring School this summer, and were enthusiastic to help when Elizabeth, one of the sixth-graders, reached out to us about sustainability in architecture.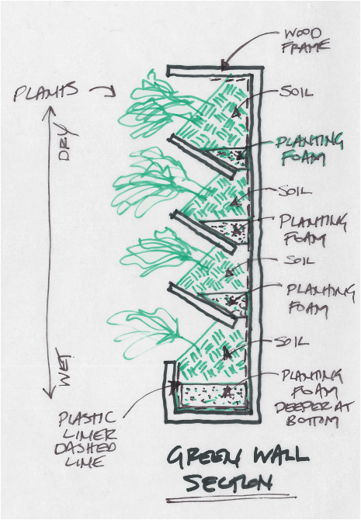 To bring her research to the next level, Elizabeth and her teacher, Maxx Kopelman, visited the office in late March to hear about sustainable initiatives in architecture straight from the field. Melissa Kops and Danielle Davis introduced her to the Living Building Challenge, which pushes architecture to make a net-positive impact on the environment. They also helped her brainstorm small-scale design projects that she could build herself to showcase at the exhibition.
Elizabeth visited again in late April with a plan to build her own living green wall. Bringing nature indoors promotes human health and wellbeing by filtering indoor air and providing a connection to natural systems, which has been shown to have positive physiological, psychological, and cognitive effects. Melissa and Charles Hickox helped refine her design and pointed her in the direction of some great local nurseries that could help her find the right mix of plants for the wall.
We were excited to visit the Expo and were impressed by the work of Elizabeth and all her classmates. The living wall was thriving and beautiful!