This blog is related to the A Sofa in the Kitchen blogpost. Same clients, same project. Continuing our conversation with our clients about their kitchen,designed to include light grey metal cabinets, white Corian countertops and sanded glass pantry doors and backsplash, we decided that we would include some wood element to contrast the modern "cold" materials governing the space and to balance the general ambiance.

Photo Credit left: https://s-media-cache-ak0.pinimg.com Photo Credit right: https://dfabnus.wordpress.com/
For several reasons, and mostly following our clients' desire for clean (and cleanable) surfaces for the counters and cabinets, we thought a wood ceiling above the eating area and a wood volume at the main kitchen would be the perfect elements to create the material balance we were looking for.
We had a couple of constraints which made adding a wooden plane in the eat-in kitchen tough:
The first constraint was that we had two very high windows with a trim at only a couple of inches away from the ceiling, and the second constraint was a big beam running between the main kitchen and the eat-in kitchen (the location we wanted to use as a lighting cove).
Moving the wood plane below the beam didn't work with the high windows, and raising the wood plane above the windows didn't work with the lit edge we wanted to create between the eat-in area and the main kitchen.
The sketch below shows what we came up with: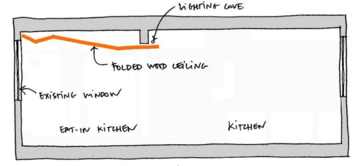 A handkerchief-type folded wood structure that touches the ceiling when close to the window and passes below the beam creating a light cavity embracing the space with warmth and personality.
This is one of the things that I like most in architecture, when almost magically…Most of our 'PROBLEMS' become some of our GREATEST SOLUTIONS.
We will definitely post a picture of the finished kitchen soon... :-)