By: Krissy Velardi
When I set off to college at Cal Poly SLO, located on California's beautiful central coast, I expected to spend all of my time either studying architecture or running around on the beach.
Then one day I got to talking with a group of kids wearing funky pants sitting by a fish tank and they somehow convinced me to join Poly Ponics, the university's aquaponics club. I now spend every Sunday morning with them up at the Student Experimental Farm working in Zion, the Poly Ponics greenhouse.
Aquaponics is the creation of a symbiotic relationship by merging aquaculture, which is raising fish, and hydroponics, which is growing plants without soil. Creating an aquaponics system is like engineering an ecosystem to be more efficient, especially in terms of water. Plants all grow in beds filled in soil-less media which water can easily filter through. In each cycle, this same water flows through the sump, filters, then—most importantly—tanks, all before coming back to the plants again. The Poly Ponics tanks are teeming with life including koi, goldfish, bass, crayfish, and Harold, a non-native turtle we found walking down the street one day. As the water circulates throughout the system, the nitrogen from the aquatic creatures' waste nourishes plants as they absorb it from the water through their roots. Since aquaponics systems recycle their water, our only inputs to raise fish and grow produce are energy for the pumps and a bucket of fish food.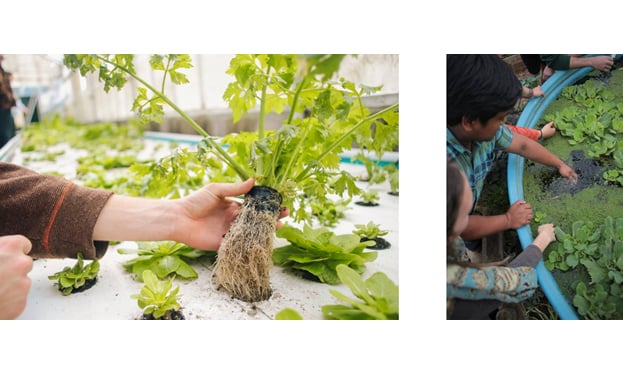 It's not just the plants and fish that benefit from each other in Poly Ponics. The club fosters a unique community made of students across all disciplines. When I began my last studio project which was required to meet Living Building Challenge Petal Certification standards, I started by raiding beekeeper Marcel's bookshelf to learn more about permaculture and urban landscaping and I talked to him about how I could successfully connect people to nature. I had some really great conversations with Miles, who was studying for his PE as a Civil Engineer while I was designing the heavy timber structural system—something I was interested in from an environmental standpoint but hadn't had the opportunity to study from a structural engineering perspective. Then when I started focusing on the net positive energy and water aspects of the design, I sat down with Erik, who was preparing to defend his thesis on algae, to discuss how to use spirulina to filter water and generate energy and heat. Alex, an Environmental Engineering Major studying air quality and always riding her bike, inspired me to discover that my assigned project site had a 99/100 walk score and therefore didn't require any vehicular parking on-site. The shared passion for composting amongst the club led me to vertically align the bathrooms in the residential units so that it could be optimized for composting toilets. At the end of the project, it turned out that my most influential design decisions could be traced back to the kids in funky pants.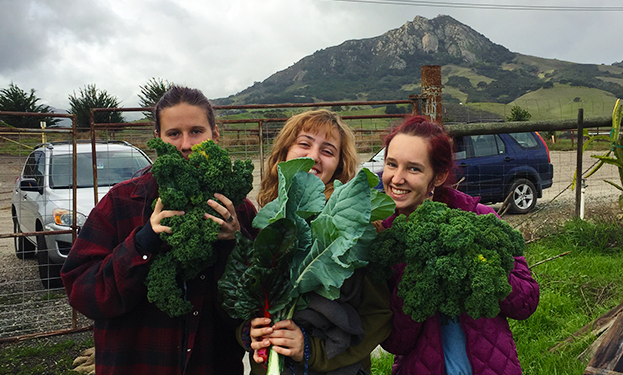 Harold the turtle and I were equally unsuspecting when Poly Ponics swooped us up and changed our lives for the better. What seemed like a totally random hobby to acquire during my free time in college has turned out to be a wildly important part of the past three years of my life. Without Poly Ponics, I wouldn't be who I am as a designer or a person. And now, when planning a visit to a new city, I don't just research its architecture but also its aquarium.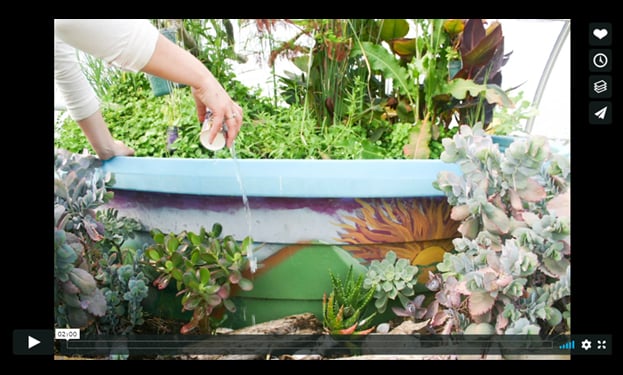 Credit to Charlotte Ross
To see more of what Poly Ponics is up to, check out @polyponics on Instagram