Phipps Conservatory and Botanical Gardens' campus embodies its mission to promote human and environmental wellbeing.
A visit to Phipps may inspire you to learn more about sustainable practices or take your project to the next level of sustainability. At Phipps Conservatory and Botanical Gardens, every capital project is an opportunity to apply their values and mission.
Laura and I took away 6 incredible lessons during our conversation with Richard Piacentini, Phipps' President and CEO, about their journey building one of the most sustainable campuses in the world.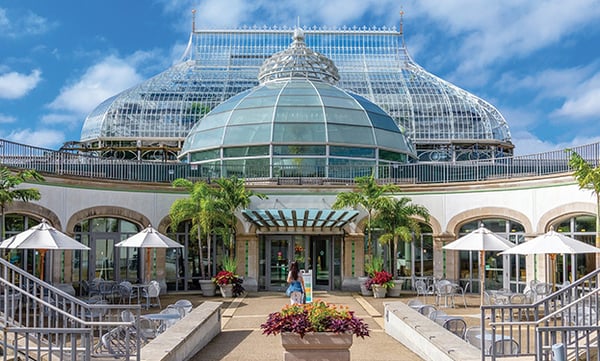 Image Credit: Welcome Center, Paul G. Wiegman
Mission alignment is the most important criteria for long term success.
When implementing their three phase Master Plan, Phipps had a choice. They could either build all three phases for their original budget amount without the green features that aligned with their organizational mission or they could build the first two phases with the green features and delay the third phase for further fundraising. They chose to stick to their values and take the latter approach.
"We were focused on improving the visitor experience… We really care about the environment, so we decided our buildings should reflect our values."
The Welcome Center achieved LEED Silver Certification in March of 2005 and Phipps further pushed boundaries achieving LEED Platinum EBOM Certification for their Production Greenhouses in April of 2006, a project type for which they were told LEED was an impossible goal. This was followed by a revolutionary Tropical Forest Conservatory that is passively cooled and has no greenhouse effect. It turns out that their authentic dedication to sustainability generated enthusiasm among their funders who became eager to back the next project, and as a result, they were able to build all three phases according to the original schedule without compromising on their sustainable mission.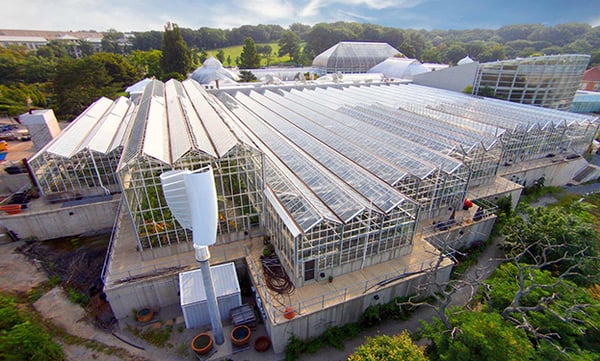 Image Credit: Production Greenhouse and Tropical Forest Conservatory, Hawkeye Photography
Value is measured in more than just dollars.
Building projects require large sums of money, and there are always budget pressures. To address this, the sustainable design community often needs to make economic arguments that demonstrate the long-term cost benefits of sustainable strategies. When we asked Richard to share the financial gains from building sustainably on the Phipps campus, he cautioned against using financial arguments alone.
"The problem is we don't acknowledge all the costs for the traditional way of doing things. It's not really an apples to apples comparison. We don't account for all the damage that fossil fuels are creating in the environment and people's health in the conventional cost of building a building."
Phipps instead measures its success in aligning the building project with its mission values and the benefits associated with doing so, such as improved human health and wellbeing. All the same, their Living Building has not had any energy, heating, water, or sewer bills, and will not for the life of the building. This is significant considering that, in our experience, nonprofit organizations and institutions typically have a harder time fundraising for operating expenses than for a capital construction project.
LEED certification lends accountability but doesn't define the final goal.
When the Welcome Center was under construction Richard noticed some floor tiles onsite from Turkey. Knowing that they were pursuing the credit for regional materials, he questioned the project team. Their answer was that the project achieved that credit without needing to buy local tile. Richard's response was,
"We're not doing this to get the points. We're doing this because it is the right thing to do."
While LEED Certification demonstrates the building meets a high level of performance, Phipps consistently goes further than the certification requirements because certification is not the goal: the goal is to be as sustainable as possible. Following the mantra of doing good instead of doing less bad, Phipps' Center for Sustainable Landscapes, which opened in December of 2012, is the first and only project to receive all four of the highest green building certifications: LEED Platinum, WELL Platinum, SITES Platinum, and Living Building Challenge Certifications.
"We think it is important to demonstrate that our buildings meet really high standards. It is a lot easier to build a building with a third-party certification system if you are trying to reach a high goal, because you've got someone keeping tabs on what's going on."
When they did not pursue LEED during the design and construction of the production greenhouses, they noticed it was much harder to keep track of their sustainability goals without the accountability of a third-party certification In hindsight, they told us, paying for the certification would have been more efficient because they spent extra time overseeing the project and construction teams themselves. They are now working on their 4th Living Building Challenge Project, and for them it is business as usual to continue to pursue certification not just for one demonstration project, but for every project.
Sustainability can and should be beautiful.
Sustainability has an image problem. People think of good design and sustainability as mutually exclusive, mainly because of the first sustainable buildings in the 1970s. They were unattractive, built into the ground with deep overhangs, and, at the time, the idea was that sustainability required sacrifice, being cold in the winter and hot in the summer. Richard astutely pointed out that,
"People do not aspire to be uncomfortable. We need to show them that we can build beautiful buildings that are much more comfortable, nicer to be in, healthier to be in, and much better for people and the planet than what they're currently in now."
In fact, there are many projects that prove that sustainability leads to good design, including Phipps. For instance, a higher insulated envelope can reduce energy use and improve comfort. A large window wall can reduce the need for electric lighting and provide a great view of the outdoors. More comprehensive views of sustainability, including the Living Building Challenge, recognize that for a building to be successful over its lifetime, it must be beautiful.
Image Credit: Center for Sustainable Landscapes, Denmarsh Photography Inc.
Share expertise in the local community to build capacity.
Phipps makes it a point to raise awareness and build capacity within the Pittsburgh community and beyond. Their campus leads by example, educating guests how true sustainability looks and feels. Other projects that have been inspired by Phipps to pursue the Living Building Challenge include the Frick Environmental Center in Pittsburgh and the Kandeda Building for Innovative Sustainable Design at Georgia Tech.
"In [Pittsburgh] as a whole everybody is feeding off of each other and starting to think about how do we keep raising the bar."
In addition, to create training and leadership within the local community, Phipps made a point of hiring different local teams for each campus project. This approach expands the capacity and specialized expertise of local firms which then allows them to apply that expertise to other future projects.
Learn from indigenous cultures to apply regenerative systems thinking.
Humanity as a species depends on a healthy ecosystem for clean air, clean water, nutrition, and medicine. However, modern ways of living have isolated us from this fact. Indigenous cultures had a more direct understanding of our dependence on natural systems, and their language and community structures reflected that interconnectedness.
"I am very much interested in this idea of regenerative thinking right now… How can we rethink the way we live, and what can we learn from indigenous cultures. We're relearning what they already knew."
We cannot use the same industrial thinking that caused the climate crisis to solve the crisis we are currently experiencing. The linear thought structure of growth, progress, and industry led to a degeneration of every natural system on Earth. To regenerate these systems, we can look to the cyclical, interconnected practice of cultures that lived in greater harmony with their natural surroundings.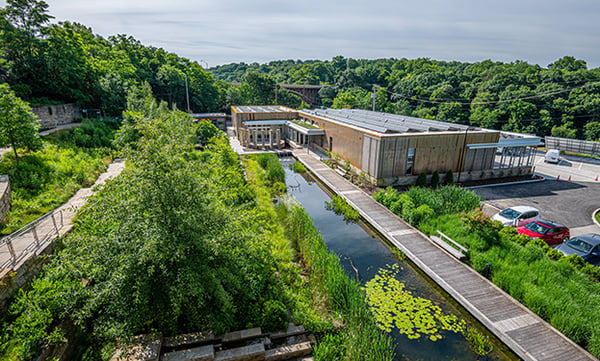 Image Credit: Exhibit Staging Center, Paul G. Wiegman
Institutions have the unique ability (and some would say obligation) to explore, develop, and share knowledge with the communities they serve. Mission and values-driven, these institutions are often at the forefront of new (or revived) practices that can inform not only their immediate community but can serve as a catalyst to inspire other institutions to do the same. By fully embracing the call of their values, and walking their talk, Phipps is an amazing example of the reach and impact of a mission in action.
Learn more at Green Innovation at Phipps
Top Image Credit: Phipps Campus Aerial View, Hawkeye Photography