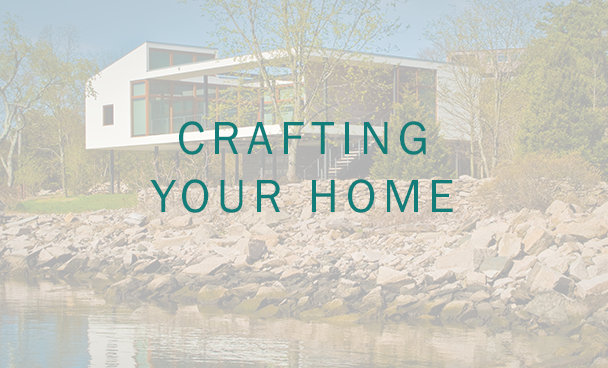 CRAFTING YOUR HOME
Whether renovating or ground-up, we'll help you figure out what it will take – and then get it done.
Here's what we're hearing (and feeling ourselves!)…
I have to move out of the city!
I need a second home that I can use as a getaway.
I am so tired of these frustrating things in my home – it's time to renovate.
I need to finally focus on improving my outdoor space.
It may be obvious that we provide traditional architecture services for residential clients, but there are other ways we can help, too. Here are some of the ways we're helping clients with their homes:
Attending site visits for potential new homes. Wouldn't it be great to get an architect's eye BEFORE you commit to purchasing a new home?
Attending site visits for potential land to build on. Sometimes it's hard to look at a piece of land and visualize what it can be. Why not get professional input early on?
Brainstorming – So many people just need someone to bounce ideas off of. We're happy to lend our expertise in this low effort / high impact manner.
Master plans – many of our clients don't want to do everything at once. They need help prioritizing, understanding costs, and making a long-term plan so they don't waste time and money throughout the process.
Mini projects – We're happy to help at any scale. You don't need to be undertaking a full house renovation, addition, or new build to get really impactful design input. We often work with clients on small projects, like one or two-room renovations.
Historic renovations: We've been working in historic buildings for years. We have a good idea of the challenges to expect, and we can help you plan for them.
And of course, what you probably already knew we do…
Architecture, Interior, and Landscape Design Services: We have professionals from all disciplines in-house. We've worked on renovations, additions, new buildings, and landscapes. We've worked in historic and modern idioms. We don't have one style or approach that we apply to every project. Every client and every place needs its own unique approach.

Go Back to All Transition Services