Buildings often take on significant cultural importance over their lifetimes and their loss to the urban fabric would certainly leave a hole, but what do you do when they have outlived their original function? While some historic structures can be easily adaptively reused, others which had a very specific use pose a difficult challenge.
In the case of Las Arenas in Barcelona, an iconic late 19th century bullring posed such a challenge. Originally built for bullfighting, this facility was also used for other types of performances including theater and opera, a venue for large gatherings and even as a barracks during the Spanish Civil War. With the shift away from bullfighting in Catalonia and now an outright ban, the facility became functionally obsolete. A decision was made that the brick and tile façade had to be preserved as part of any redevelopment.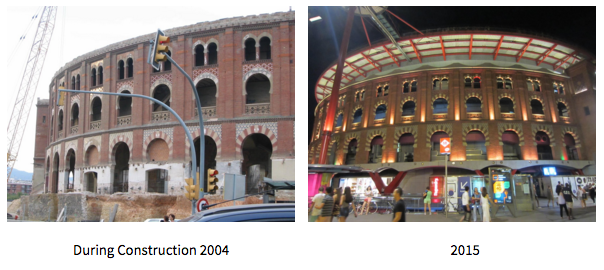 While visiting Barcelona in 2004, I noticed the early stage of demolition/construction, but only recently learned about the transformation of Las Arenas upon returning there in the summer of 2015.
This was certainly not a typical adaptive re-use project. The entire circular 3-storey façade was underpinned and supported in the air for several years while the ground beneath it was excavated for a parking structure and a completely new facility was built below, within and above. Designed by the office of Richard Rogers (Rogers Stirk Harbour + Partners) and local Spanish architects Alonso-Balaguer y Arquitectos Asociados the new facility is a center of commerce and entertainment. The interior common space retains the same dimensions of the original bullring with retail and commercial spaces located in the original seating areas. Capping off the entire stricture is Europe's largest wooden domed space which hosts all types of events including fashion shows, banquets, exhibitions and conferences. An exterior jogging track and promenade ring the top of the building providing panoramic views of Barcelona.
American preservationists would certainly take issue with the amount of 'historic fabric' that was lost in the process, but there is value to what was preserved. Not every structure can, nor should, be preserved exactly as it was originally built. When faced with the choice between being able to preserve an iconic façade or complete destruction, there is a place for preserving what you can. The cost to preserve the façade of this building was significant and involved many technologically complex construction techniques. The design solution is equally complex and results in a unique identity. I would argue that if the preservation of the façade had not been mandated by the city, the resulting building would not have been as interesting or innovative. Sometimes there are actually benefits to government mandates.
Additional Reading
http://www.e-architect.co.uk/barcelona/las-arenas Photos from the architects and description of the project
http://cupulaevents.com/history/?lang=en Contains a number of photos of the interior of the dome.
http://www.ondiseno.com/proyecto_en.php?id=1918