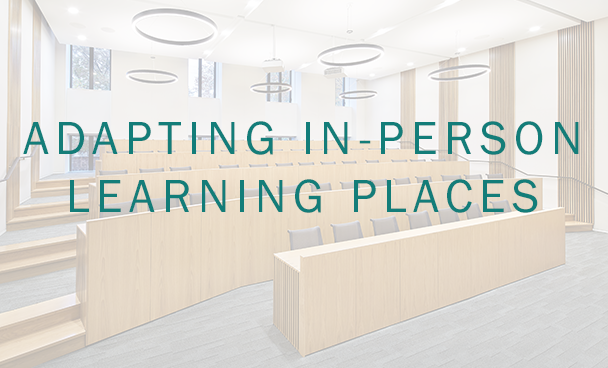 ADAPTING IN-PERSON LEARNING PLACES
Creating safe & effective environments for students and educators
See how we're helping a university plan for in-person learning this fall.
You may be asking yourself: How many students can we safely plan to have in our classrooms now? Where will they go between classes? How will we manage a safe flow of people through our building(s)?
If you're like most others, you probably have dozens of people in your organization weighing in on what it will look like as faculty and students return to campus. You can likely manage many of the modifications of space and process on your own, but there may be ways we can help make it a bit easier to navigate.
Here are some ways we may be able to help:
Determine the safe capacity of your existing classrooms based on teaching/learning styles
Develop flow plans for classrooms for entering, sitting/standing, and exiting
Determine capacity of between-class social spaces
Assess flow through between-class social spaces
Assess flow through circulation spaces
Prepare diagrammatic drawings that are easy to understand
Identify modifications that can be made internally
Design or specify social distancing elements
Review code implications that may occur because of new layouts
Design signage that guides users
Coordinate installation of social distancing elements and/or signage
Work with our engineering partners to assess air quality and HVAC Systems
We're happy to jump in at any scale - from building-wide strategies to isolated input. Our goal is to use our expertise to help you move forward safely and effectively.